Canuck fever is all around.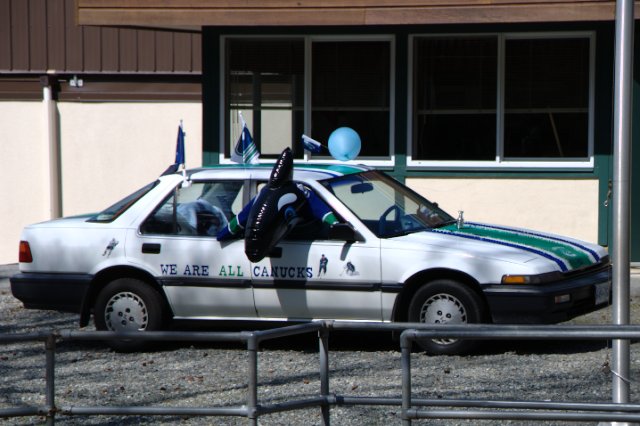 Outside a school on Vancouver Island, this car plugs the owner's preferred team.
Some of my readers aren't "real" Canadians (either because they're not Canadian at all or because they're Canadians who don't conform to our national identity as our beer companies define it). For them, let me explain: the Vancouver Canucks is the top-ranked hockey team in the Western Conference this year. It's competing in a best-of-seven series with the team that vanquished it last year, the Chicago Blackhawks. Here's the status today: the Canucks won three in a row, then the Blackhawks won two. One team will soon be eliminated.
It's the talk of barber shops, small-town diners, dinner tables and big-city billboards.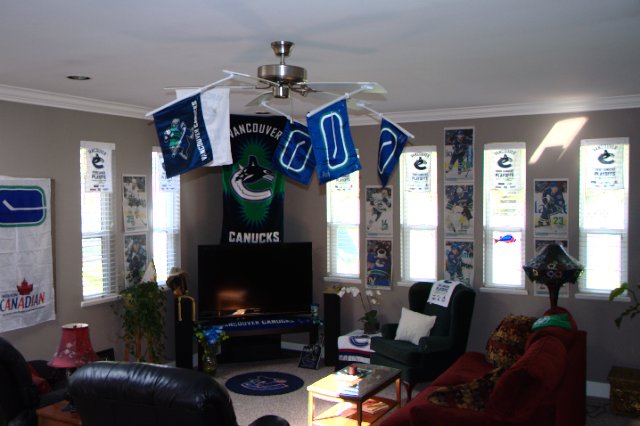 My cousin's family built this "Canucks shrine" in a suburban Vancouver home. They bought the flags overhead, which are ordinarily fastened to cars; staff at the arena downtown gave away the towels now hanging in the windows; a local newspaper has been printing full-page pictures of players for subscribers.
For the last time, British Columbia: yes, I hope the Canucks win.