Jul, 2022 back to Jun, 2011: (nothing)
May, 2011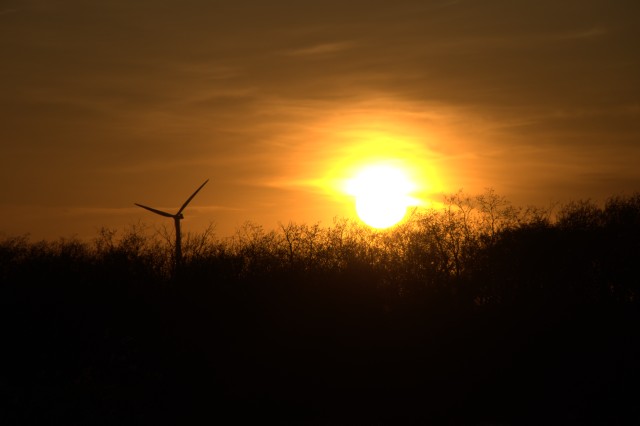 The sun sets by a wind power generator near Moosomin, Saskatchewan.
A tale told each May on cold Prairie days
Is worthy of space on my site.
It's Bicycle rolling down well-ridden roads
And Wind coming, asking to fight.
The rider crouched down, with not half a frown,
Requesting the wind to abate.
"I'm too oft due east," shot Wind, shunning peace,
"This year you'll be trapped and made late."
The ducks flapping east soon flapped without cease;
Wind's gusts spun them 'round with a breeze.
The waves grew white teeth in ditches beneath,
And cans cartwheeled west just to tease.
May, 2011 back to Nov, 2007: (nothing)
Oct, 2007
Thank you. You taught me
That God does not kill people
People kill people
Oct, 2007 back to Aug, 2007: (nothing)
Jul, 2007
Life, for me, is now a phase
Of frantic preparation
Peppered, soaked, and madly braised
With keen anticipation.
Now is little but delays;
But thrill will not be mired:
Every day I can appraise
How much my heart buoys higher.
Flames have set my mind ablaze;
Excitement rolls like thunder.
Simply put, these are the days
Of miracle and wonder.
Jul, 2007 back to Nov, 2006: (nothing)
Oct, 2006
Fate will impel me to conform.
When I feel I might be bested,
I'll think, as I follow the swarm,
There is madness in my method.